Indigenous Conference Services is 100% Indigenous-owned and operated. ICS conferences and events are developed in a
Culturally-appropriate manner

In-line with community controlled beliefs, values and cultural protocols

Cost effective for organisations and

Brings together representatives from Australian governments and the Aboriginal and Torres Strait Islander and mainstream health sectors, grassroots communities and Elders

ICS believes that an holistic approach needs to be taken in all facets of its conference agendas and in developing projects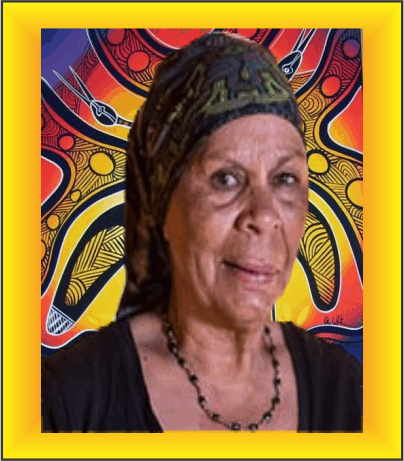 wendy Francis
Director
Australian Christian Lobby
Wendy Francis is also Director for the Australian Christian Lobby. She is a recognised Australian spokesperson for the rights of women and children and an effective campaigner against sexual exploitation in all its forms. She is the author of two children's books – What Are Little Girls Made Of? and What Are Little Boys Made Of?
Wendy is also a Director and Board Member of Samaritans Purse Australia and Vision Media Australia and has travelled to countries such as Vietnam, Thailand, Bangladesh and Cambodia where she has participated in projects to rescue women and children from sexual abuse, and provide literacy and health projects amongst rural women. She and her husband Peter have been married for 40 years. They have 3 married children and 10 grandchildren.
​
​
Patricia Hania
Post-Doctoral Researcher
Ryerson University
Patricia holds a PhD from Osgoode Hall Law School, York University (York), Toronto. She also holds a LL.M. (Osgoode), LL.B. (Osgoode), M.E.S. (Faculty of Environmental Studies, York), MBA Grad. Dipl. (Schulich, York) and BAS, York.
​
As an interdisciplinary social-legal researcher, Patricia is interested in the interaction of market actors in natural resource governance regimes – in particular, water governance in Canada. Her research considers the intersection of law and policy to understand how norms interact, regulate and become embedded in legal sites of contested and complex decision-making.
​
​
Hilde Tubex
Associate Professor
ARC Future Fellow Deputy Head
Law School University of WA
In 2011 I received an ARC Future Fellowship for four years to work on the project: "Reducing imprisonment rates in Australia: International experiences, marginal populations and a focus on the over-representation of Indigenous people." (FT100100627). I joined the Law School on 1st August 2011. I published on my FF on topics as comparative criminological research, Indigenous over-representation and different penal cultures within Australia.
I am currently working on a Criminological Research Grant on "Building an Effective Community-Based Throughcare Approach for Aboriginal Offenders in Australia" and an ARC Linkage Grant on "Aboriginal & Non Aboriginal Sex Offenders in Australia – Assessing Risk for Practice & Policy". I am also a co-investigator on a Telethon Kids Institute project on a "Prolific Offender Study – Developmental Pathways Project".
​
In the period 2007-2011, I worked for the Department of Corrective Services as Team Leader, Research and Evaluation. As Team Leader, I developed the research priorities, coordinated and supervised the work done by the team members or by external consultants and conducted some own research. Another important part the job was to advise the Research an Evaluation Committee that manages and oversees all internal and external DCS related research and evaluations.
Before migrating to Australia in 2007, I had been employed for 15 years as a researcher and, after getting my PhD in criminology, also as a lecturer at the Department of Criminology of the Free University of Brussels. I combined my work at the university with other, external, expert assignments. As a result of my international experience in the area of parole, the management of long-term and life-sentenced prisoners and the treatment of sex offenders, I was appointed as an expert to the Council of Europe (CoE) in these areas. Between 2000 and 2007 worked regularly for the CoE and took part in a number of projects in Central and Eastern Europe. Since 1999 I had been substitute assessor on the Belgian parole board, as an expert on the implementation of sentences, and regularly acted as such. I was a member of a prison supervision board, and later of the Central Inspectorate of Prisons, until I had to leave for reasons of incompatibility with work I was then undertaking for the cabinet as an expert adviser. I was employed for two years (2005-2003) on a part time basis as an adviser on penal policy to the Belgian minister of Justice.
​
​
Dorinda Cox
Noongar Woman Leader
Dorinda Cox is a Noongar woman from the South West region of WA and has over 20 years' experience working in government and community sectors at the local, state and national levels. Dorinda is the Managing Director of the Inspire Change Consulting Group and delivers training, speeches and presentations on gender equality. A champion for Aboriginal women in business and leadership, Dorinda advocates for changes in systems and policy to affect real change.
​
Dorinda has international experience representing Australia at the United Nations in New York in 2013 on behalf of the non-government sector and the Asia Pacific Economic Cooperation Women and the Economy Forum in Lima, Peru in July 2016 on the Australian government delegation. She offers unique insights into being an Indigenous businesswoman in the 21st century with international experience and deep cultural wisdom.
​
​
Jenny Pechey
Foundation Member
Continence Foundation of Australia
Came to Central Australia in the 80s, made a home and raised our children here.
Work as a Continence specialist nurse and stomal therapist in Urban Primary Care in Alice Springs and feel very lucky to have work that is fundamentally useful to people.
Spend most of my time at work, but at heart am a birdo.
​
​
Dr Tinashe Dune
Senior Lecturer in Interprofessional Health Science
Western Sydney University
Dr Tinashe Dune (BA Hons Psyc. | MPH | PhD Behav. Sci. | PhD Clin Psyc candidate) is a multi-award-winning Senior Lecturer in the areas of health sociology and public health and is also a provisional psychologist. At Western Sydney University Dr Dune teaches in the Interprofessional Health Science program. Her research and teaching focuses on marginalised populations. This includes the experiences of culturally and linguistically diverse people, those living with disability, ageing populations, LGBTIQ-identifying people and Indigenous populations. Dr Dune utilises mixed methods approaches and interdisciplinary perspectives which support multidimensional understandings of the lived experience, health outcomes and ways to improve wellbeing.
​
​
Aunty Kumalie (Rosalie) Riley
Tinkerbee Eastern and Central Arrernte Cross-Cultural & Interpretation Service
is owned and operated by Kumalie (Rosalie) Riley, an Arrernte woman from Alice Springs with spiritual affiliations and connections to the land, hereditary from her grandmother.
Kumalie is a well-known Arrernte Elder and artist with many years of experience teaching Arrernte language in local Alice Springs primary schools and in adult education.
She has contributed to widely acclaimed publications such as the Eastern and Central Arrernte to English Dictionary, and the Eastern and Central Arrernte Picture Dictionary (both published by the Institute for Aboriginal Development).
Kumalie is a highly experienced interpreter and translator and is frequently called upon to assist with court interpreting and recording radio, television and DVD scripts in Eastern/Central Arrernte.
​
​
Jacinta Nampijinpa Price
Cross Cultural Consultant
Jacinta Nampijinpa Price is a Warlpiri/Celtic woman from Alice Springs. Her professional roles include working as a Cross Cultural Consultant for almost 20 years. She has several years' experience in running a not-for-profit company Yangapi Productions, which produced the Indigenous themed Children's TV Program Yamba's Playtime and delivered a number of Healthy Living travelling musical productions to early childhood audiences in remote communities throughout Australia. Jacinta has had a vast career within the arts including visual art and music. Jacinta has toured Australia with her own music and been a singer-songwriter for more than 20 years. A change in career saw Jacinta elected for a second term onto Alice Springs Town Council from August 2017. She is deeply involved within her community as well as communities throughout the Northern Territory and has now been pre-selected as the Country Liberal Party Candidate to run in the next federal election for the seat of Lingiari in the House of Representatives.

Jacinta until recently was a research associate with the Centre for Independent Studies and along with her mother former CLP Minister Bess Price were awarded by the CIS with the McGregor Fellowship in recognition of their years advocating against domestic violence and the need for positive cultural change. Throughout the platforms of television, visual art, music, women's AFL and local government Jacinta has worked to empower disadvantaged Australians.
​
​
Dr Joseph B. Stone (USA)
Clinical Psychologists, Indigenous Development Specialists
Dr Josheph B. Stone is an Amskapi-pikuni ceremonialist and traditionalist and member of the OKKAN (Sundance), the Last Star Thunder Medicine Pipe and Beaver Lodge. He is a clinical psychologist and with his partner, Amber Logan, owner of Indigenous Development Specialists of Havelock North, New Zealand. Dr. Stone also works at the Napier Family Centre in Hawkes Bay, New Zealand. He has clinical experience with adult prisoners & corrections and juvenile justice in both New Zealand and USA. He is affiliated with the National Centre on Trauma and Project Making Medicine – Indian Health Service Assessment and Treatment of Child Abuse at Oklahoma State University. He has presented to and served as consultant to the U.S. Senate Select Committee on Indian Affairs of Native Youth Suicide. Joseph's publications include articles on trauma, suicide, and other cultural / behavioural issues.
​
Dr Amber R. Logan (NZ)
Clinical Psychologists, Indigenous Development Specialists
Dr Amber R. Logan is a traditional Kahungunu Māori wahine, a New Zealand Health Psychologist and a Doctoral Fellow in Public Health at Otago University. She teaches health psychology course work at the University of Auckland and Otago University and is well-known in New Zealand for her work in Methamphetamine education and community activism. Dr Logan is a consummate grant writer, health services evaluator and health services program designer. She has presented extensively in Australia, Canada, and the USA at Harvard University, the University of Washington, and to the US Federal Government under the Obama administration.
​
​
Lyndsey Doherty
AOD Case Manager Commit2Change Program
Drug and Alcohol Services Australia NT
Lyndsey Lloyd is originally from Ireland. She came to visit Alice Springs for a 3 day tour to Uluru back in 2011, fell in love with the beautiful landscapes of Alice Springs and stayed for almost 9 years. She works as AOD case manager and facilitator alongside a great mentor Craig Thorogood for the commit2change program. She worked in the community service sector in Alice Springs for over 5 years and gained experience working with disability, aged care, & youth before she found her passion working for a drug and alcohol association (DASA). Having lived experience with alcohol and drug abuse, domestic violence and many years of self-destruction, this industry has made her help herself and more importantly help others. Lyndsey is a trained drug abuse testing officer and have achieved a Cert IV in child, youth and family intervention, Cert IV in Alcohol and other drugs, and currently in the final stages of finishing a Dual Diploma in Alcohol and other drugs and mental health. In her spare time, she is studying crystal healing and training to be a skilful mind leader. Lyndsey enjoy camping, and physical exercise out bush in the cooler months.
​
​
Amanda Cameron
Aboriginal Service Co-ordinator
Financial Rights Legal Centre NSW
Amanda Cameron is a Wiradjuri woman living in Sydney, New South Wales. Amanda has extensive experience working in community services, disability and mental health sectors. Over the last few years Amanda has worked in a range of case management positions within the Domestic and Family Violence sector in NSW and Queensland. Amanda has a strong background working with women and children who have experienced domestic and family violence, homelessness, housing, financial crisis and child protection issues. Amanda has worked in The Staying Home Leaving Violence Program and in women's Refuges. Amanda currently works as the Aboriginal Service Coordinator at The Financial Rights Legal Centre, Sydney to manage and coordinate their national Aboriginal and Torres Strait Islander telephone legal advice service, Mob Strong Debt Help. Prior to joining The Financial Rights Legal Centre, Amanda worked as the Coordinator for the Gulyangarra Yellamundie Aboriginal Family Support Program. Amanda was responsible for delivering the Family Support Program and teaching the Dharug Aboriginal language and culture to Primary School children in schools in Western Sydney. Amanda has a wealth of experience working with Aboriginal and Torres Strait Islander women, children, families and community. Amanda is passionate about encouraging positive change in people's life.
​
​
Scottt Wilson
CEO
The Aboriginal Drug and Alcohol Council (SA) Inc
Scott is the Director of Aboriginal Drug and Alcohol Council, (ADAC). He is an Aboriginal man from the Stolen Generation. Scott has a background of poly drug use and he has spent considerable time and effort learning to live a lifestyle free of illicit drugs and alcohol. Scott's youth was spent misusing and abusing alcohol and other drugs, which brought him into contact with both law enforcement and health agencies constantly.
The Aboriginal Drug and Alcohol Council (SA) Inc. interviewed Scott in 1994 for the position of Director. Scott was appointed Acting Director then in 1995 became the Director, a position he has held ever since. Since working at ADAC, Scott has led a drug free lifestyle, but he has drawn on his understandings from his own background and so ADAC has a harm minimisation focus. Scott's commitment and involvement in the Indigenous substance misuse field sees him in a variety of organisations and committees.
​
​
Dr Carmel Laragy
Senior Research Fellow, Social & Global Studies Centre
RMIT University VIC
Dr Carmel Laragy is a researcher at RMIT University in Melbourne, she is on the committee of management of a self-advocacy service for people with intellectual disability, and she convenes a peer support group for social workers working with the National Disability Insurance Scheme (NDIS) and Consumer Directed Care (CDC) in aged care. For many years Carmel has studied support programs that assist people to live at home. Carmel is committed to giving people choice and control over their support services so they can live as they want in their community​.
​
​
Graeme Pearce
Manager Cross Borders Indigenous Family Violence Program, Police Services WA/NT/SA
Graeme Pearce is the manager of the Cross Borders Indigenous family violence program and a long time White Ribbon Ambassador. Graeme have been employed by Community Corrections in various capacities for over 31 years. For the last 14 years, he organised the delivery of behaviour change programs for family violence perpetrators. Graeme stated that men can change their behaviour and the majority of family violence perpetrators are willing and want to change. However, it is the responsibility of other men to influence their fellow men to take the steps to stopping family violence. He believes that men need to have quality conversations about stopping family violence and ensure that men are not bystanders when confronted by family violence. ​
​
Speakers Unable to Attend
The speakers unable to attend would like to apologise for their withdrawals.
​
Joddie Davis
CEO
I am a Biripi Women. I have grown up with pride in my people and culture. I have worked in government positions for the past 20 years and have decided to return home and share my knowledge to improve outcomes for my community. It is great to be back on Biripi land working in my community.
I am excited by the opportunities of building a future that provides a self sustained income for our community to thrive. It is important that we work together to move forward to achieve the best for our community and the next generation.
​
Bess Nungarrayi Price
was born at the remote community of Yuendumu in Central Australia. Her first language is Warlpiri, and she speaks four other Indigenous languages. She has a Bachelor of Applied Science in Aboriginal Community Management and Development from Curtin University and has worked in education and training, public administration, media, community development, interpreting, translating and small business management.
Bess has served on numerous management and advisory committees and boards of directors locally and at Territory and National level. In 1997 she established Jajirdi Consultants in partnership with her husband. With Jajirdi she developed and delivered cultural awareness programs for several private, government and non-government agencies, Aboriginal organizations and mining companies. Her work included several major social research projects. Mrs. Price was the inaugural chair of the Indigenous Affairs Advisory Council for the Northern Territory Government. In 2012 she was elected to the Northern Territory's Legislative Assembly representing the electorate of Stuart.
In September of 2013 Mrs. Price joined the cabinet of the Government of the Northern Territory to serve as the Minister for Local Government and Community Services, Parks and Wildlife, Women's Policy, Men's Policy and Statehood. While Minister she had the pleasure of swearing her daughter in as an Alice Springs Town Councilor, the first time in our history that an Aboriginal mother and daughter have served at two levels of government at the same time.
Bess first began to paint in 2004 however work commitments did not allow her to spend as much time on her art as she wanted to. She has been inspired by older artists, especially her older sister Jeannie Nungarrayi Egan and her aunts, Judy Watson Napangardi, Dorothy Lewis Napangardi and Betsy Lewis Napangardi, whose paintings are hung in prestigious galleries here and overseas, but who are all now deceased.
Bess paints traditional Jukurrpa (Dreaming) stories in her own contemporary style, but also honours the old ones who have taught so much. She was born into the Warlpiri culture and has done many things that the old ones have not been able to do. She has travelled the world and seen so many other cultures. Now she wants to reconnect with who she really is through her art to help the world understand her people and their ways of seeing the world. Election to the NT parliament took her away from her art. After the 2016 elections she has gone back to work with Jajirdi Consultants and has returned to her painting.
She has been married to her husband Dave for almost forty years, they have one daughter Jacinta and now four grandsons.